Discover more from Pass the Fish Sauce
Weekly dispatches on Asian food and cooking from Andrea Nguyen, a James Beard-award winning author. PTFS is tasty, useful, and about culinary bridge building. Let's connect in the kitchen and at the table.
Over 13,000 subscribers
Farewell to Aubrie Pick, Photographer Extraordinaire
+ Viert Herb Tote Restocking + Thai Fish Sauce Tip
Hello everyone,
First a few updates. Last Thursday was action packed and I have you to partly thank for it. I thought had enough inventory to satisfy everyone, but within hours of the shop reopening, everything was spoken for. Most of the purchases were made by PTFS subscribers. You get first dibs because you are here!
My work schedule is getting full and I'm unsure about reordering.
Please help me gauge demand. If you want to get a tote (or the tote and book) please fill out the Viet Herb Tote Interest form. You'll be added to an email list for priority notification about the tote. If I restock, priority folks will get an extra head start on making purchases.
While people were making tote purchases, I was getting Thai cooking tips from my chef friend, Pim Techamuanvivit. She gave me plenty of pointers, including that Trachang fish sauce is her go-to when she's in the U.S. (She has restaurants in San Francisco and Bangkok.)
I assumed that Trachang was a Thai-style fish sauce but the label indicates Nước Mắm Phú Quốc, meaning the condiment is sourced from Phu Quoc island, renowned for nuoc mam in Vietnam. The Vietnamese nod is likely meant to lure cooks like me in. There's a tiny bit of sugar in the bottle along with anchovies and salt so it's pretty natural and pure. Without preservatives, the fish sauce should be refrigerated alongside my bottles of Red Boat and Son, which have slightly more intense umami notes. All three are good and can be interchangeably used. Look for Trachang at Chinese, Viet and Thai markets.
Curious cooks, readers and eater support Pass the Fish Sauce. To get new posts and all benefits, become a free or paid subscriber!
After leaving Pim's house, I attended a Proof Collective cookbook club event. Fifteen food professionals gathered to cook dishes from Ever-Green Vietnamese. They said they loved the flavorful, healthy menu. I met wonderful new colleagues working in areas such as content production for Williams Sonoma, testing food for retail grocery stores, and researching cultivated meat. There were also writers, entrepreneurs, cooking teachers, chefs, and photographers.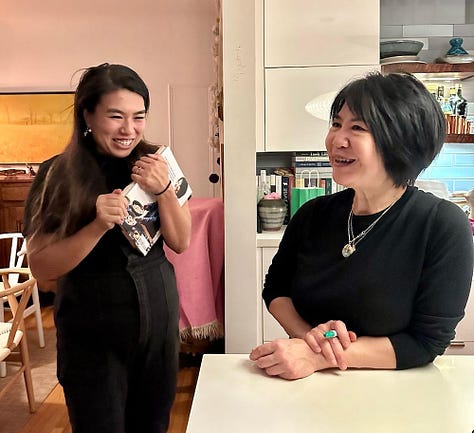 Among the evening's topics was one dear to my heart — Aubrie Pick. Aubrie is one of the most talented food and lifestyle photographers. She worked with me on my last two books. When we shot Ever-Green Vietnamese in May 2022, we talked about future projects.
A healthy parent to a 3-year-old, Aubrie suddenly fell ill earlier this spring. A diagnosis of an aggressive form of lymphoma followed in addition to acute inflammation. Her husband, Erik, family, and close friends organized her community to rally around her. I couldn't visit so I encouraged her recovery by making a video and sent text messages and DMs. Last Monday, I emailed a voice message.
Erik responded on Thursday morning saying that he'd played my message to Aubrie a few times. An experimental T cell treatment was their last hope. Unfortunately, Aubrie succumbed to the cancer on Thursday evening. She was in her early 40s.
I share all of this with you because if you have Vietnamese Food Any Day (VFAD), you are familiar with her work. If you have Ever-Green Vietnamese (EGV), you've got one of Aubrie's last cookbook commissions. If I included a little photo with your tote bag order, that is a test photo that Aubrie shot for the book; she sent them to me as keepsakes and I pass them along to others.
What is special about Aubrie Pick? She is calm, cool, curious, and smart. She allows her subject(s) to easily radiate their inner force via her lens. It's difficult for me to talk about Aubrie's work in the past tense because it still lives.
We create cookbook photos and design with "mood boards" to set the visual tone. VFAD's was doable Vietnamese home cooking from the grocery store. For EGV, we aimed to elevate Vietnamese plant-forward foodways. The recipes are not hard and most ingredients are readily available. Aubrie's task was to make artful, accessible images.
During the years between shooting VFAD (2018) and EGV (2022), Aubrie's work got even better. She created a certain vivid light and sharp sparkle — whether her subject was food or people. That's hard for a photographer to achieve because they usually excel in one or the other.
During the pandemic, Aubrie bought and built out a studio in San Francisco. She finally had a space to tinker with controlling light. She figured out new things and sharpened her skills more.
When we shot EGV in May 2022, Aubrie brought her A+ game. She hired Glenn Jenkins, a talented prop stylist who assembled what seemed like a boutique shop's worth of utensils, dish ware, cookware, backgrounds, and surfaces, some of which Glen made for EGV.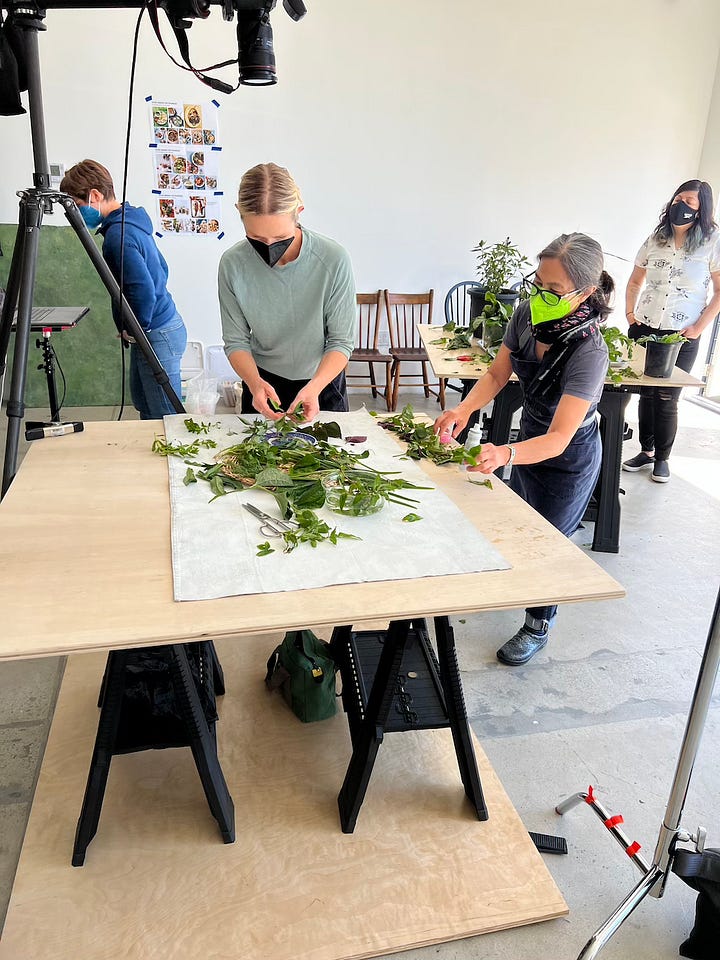 I cooked with food stylist Karen Shinto, who also worked with Aubrie on set to arrange all the elements in their place and ensure they looked primetime for the camera. Aubrie composed each EGV image. They are layered, rich, vivid. They inspire with universal beauty but are loaded with practicality.
"What do you want to communicate and teach?" Aubrie asked me. Each shot was was a conversation with me stating my objective and her creatively problem solving. Examples of what I'd ask for and how she responded:
We need a 2-page pho explainer with a center image and text floating all around. Can we show the clear broth being poured into a bowl? No problem. After she set up the scene, she got the broth looking suspended in air like hardened amber.

We're tight on space in the book so I want to feature the Viet mocha cake and the citrus marble cake in one shot. But it needs to look engaging. Okay, let's make a scene like we're in the middle of having afternoon coffee. Aubrie asked Karen to make the coffee swirl to convey activity.

I want to underscore how cravable and crispy the oven-fried imperial rolls are. Let's show you holding one like you're going to eat it very soon.

For the crispy Hue rice crepes process shots, I'd like cooks to check that the crepe is well cooked and crunchy before they pull it from the pan. Let's set you up frying wearing an apron to compliment the crepe's color and texture. We'll show the spatula holding the crepe for a peek at the underside.

Viet chè dessert soups can look messy in a photograph. The jelly and gemstones recipe is full of colors and texture but they can get muddled. How can we make it look delicious yet defined? I have an idea. Aubrie created a chè still life.
The photos produced: afternoon coffee break with two cakes, the dessert soup, Hue rice crepe process shot, imperial roll, and pho explainer.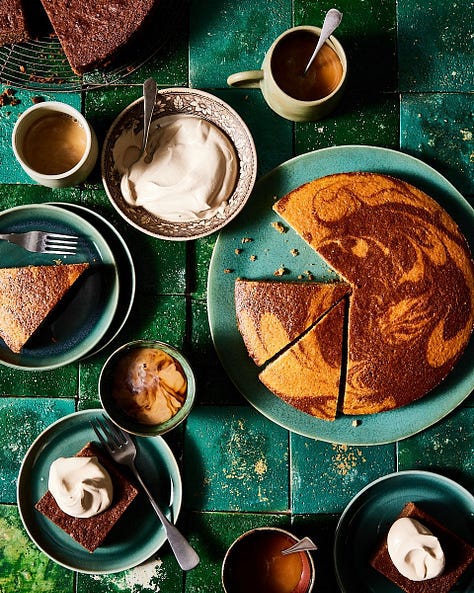 Aubrie also thoroughly read manuscripts before a shoot. That's not always the case with photographers.
When it came to the EGV dedication page, I suggested doing a 2-page ingredient shot for wow impact.
Aubrie said, "No, we did the ingredient photo for the last book so let's not repeat. I'd like the dedication page to be quiet. Ok with you?" Ok.
She photographed the dedication page with a potted lá lốt plant that I mail ordered from Florida because I was afraid we wouldn't get leaves for the beef and tofu la lot rolls. (We named the plant "Dale".) Aubrie created lots of warm light and chose surfaces and a background to evoke Southern California, where she and I both grew up.
From the manuscript, Aubrie noted that I'd dedicated the book to my parents, and that my dad had recently passed away.
The above photo is full of airiness, light, and quiet. What Aubrie created was more appropriate for my sentiments than my original idea for an ingredient shot.
Late Thursday night as I was driving home, I made plans to record a new voice message to send to Aubrie. When I received her sad news on Friday morning, I didn't feel like it was too late. I mentally sent the message to a different address.
My mind also went to EGV's dedication page. If I could add a separate line to that page now, I'd write:
Thank you Aubrie Pick for creating soulful images for my words.
Aubrie worked with many authors, chefs and celebrities. When you see her credit line, know that her work radiates her specialness.